European Hours at the Centre for European Schooling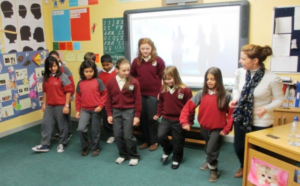 European Hour in The Centre for European Schooling is a non-disciplinary curricular area offering an open-ended and broad range of activities whose content is multidisciplinary. European Hours class provides an opportunity to:
Aims of European Hours class
Organisation of European Hour
During the European Hours class pupils learn to work together and acquire new skills. Pupils work together and communicate across the barrier created by language. They learn about Europe and their work results in a product which is then presented to others.
Timetables are arranged so that teachers work with groups for a period of six or seven weeks on a wide variety of topics such as music, festivals, traditions, food, folklore, sport, history, geography, etc.